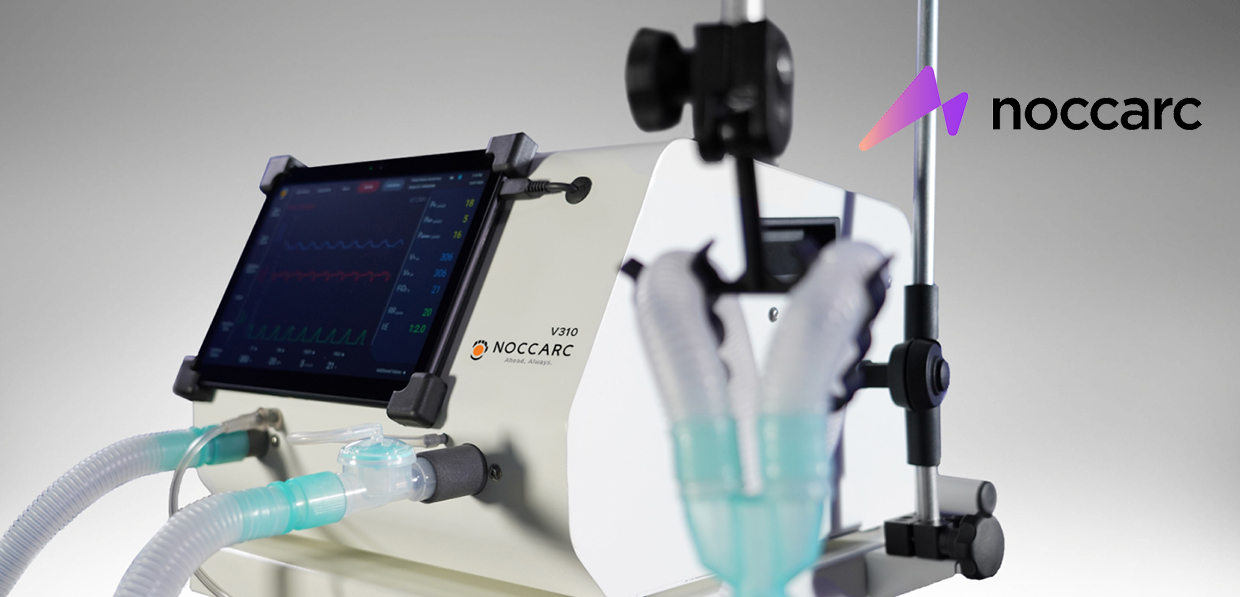 Noccarc's Vision: Setting the Stage for a Revolution in the Indian Medical Devices Sector
New Delhi, 31st October 2023: Noccarc, an innovative medical devices startup, is poised to become the first Indian company to receive BIS approval for its groundbreaking ventilator. This development is set to rival international products adhering to FDA and CE standards, an impressive feat considering >80% of medical devices in India are generally imported. The company's commitment to R&D, rigorous testing, and international manufacturing standards has led to two patents and over 23 filed patents. The ventilator has received endorsements from AIIMS Bhopal and Ruby Hall, Pune. Founded by Nikhil and Harshit, Noccarc's mission to provide indigenous ICU ventilators during the pandemic has evolved into a trajectory toward global leadership in the medical devices industry.
With a track record of supplying over 3,600 ventilators across India and collaborating with a diverse array of hospitals, Noccarc identified and addressed long-standing issues that had been overlooked by legacy companies, ultimately revolutionizing ICU operations.
In addition to creating advanced medical equipment, Noccarc's vision extends to reshaping how ICUs are operated. Their digital platform, coupled with smart devices, tackles the urgent problems of a lack of medical experts and competent workers. The launch of the Noccarc V730i in May 2023 was marked by rigorous validation and internal testing, a testament to the company's unwavering commitment to patient safety and product excellence. Intriguingly, while similar product launches typically demand 4-5 years and hefty capital injections, Noccarc's ingenuity and resourceful approach helped realize the V730i in just two years with very limited capital.
Nikhil Kurele, CEO of Noccarc said, "Trust is the bedrock of the medical device industry. In a post-pandemic landscape, customers demand comprehensive information on technology, manufacturing, endorsements from the medical community, and exhaustive validation before making a buying decision. R&D is extremely crucial in this. With India's prowess in the pharmaceutical sector as a reference, we aim for a similar ascent in medical devices. Delivering high-quality, world-class products at the right price, unlocks a vast market opportunity."
Noccarc's recent achievements herald significant changes in India's manufacturing and medical devices landscape. Pioneering in intellectual property, high-value, and high-margin products, Noccarc is redefining industry standards and showcasing the untapped potential within India.
"IAN Fund invested in Noccarc, a manufacturing tech startup with very strong founders who have executed extremely well from conceptualising an ICU ventilator to landing it into the market within 100 days, with installations at 650+ hospitals. They are now scaling to not only to expand their client base but also to build a portfolio of smart ICU focused devices: leveraging the internet, for both patients and health care providers." says Padmaja Ruparel, Founding Partner of the IAN Fund.
While Noccarc harbors global aspirations, the next two years will see a deliberate focus on the domestic market, driven by the substantial demand across India. With an eye on expansion, Noccarc is poised to obtain CE and FDA approvals, positioning it for a broader global footprint.
About IAN Fund I 
A SEBI registered Rs. 375 crore fund, IAN Fund l is the maiden VC Fund of Indian Angel Network. It is a uniquely differentiated seed/early-stage Fund that aims to transform India's entrepreneurial landscape. The fund invests in innovative companies in sectors including healthcare and medical devices, VR, AI, software as a service, marketplaces, fin-tech, big data, artificial intelligence, and hardware.