IAN Board
Unparalleled & Experienced Team that nurtures ideas & visions to make them great businesses. The IAN Fund has brought together several successful entrepreneurs, industry leads and investors together who have the same vision of taking the entrepreneurial culture of our country to next level.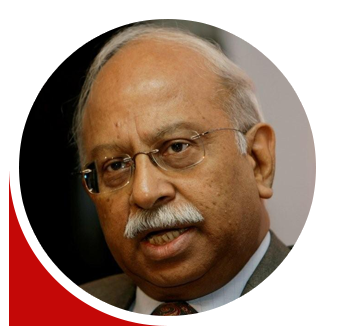 Saurabh Srivastava
Founder, IAN & Past Chairman, NASSCOM
Saurabh Srivastava is one of India's leading entrepreneurs, investors and institution builders. The President of India has awarded him the Padma Shri in recognition of his contribution to the creation of a vibrant entrepreneurial ecosystem in India and Prime Minister Shri Narendra Modi has presented him an Award for his contribution to the Indian IT Industry.
He co-founded and Chaired key institutions of modern India focussed on IT and entrepreneurship: The IT Industry Body NASSCOM; Indian Venture Capital Association; TiE(the world's largest not for profit organization focussed on fostering entrepreneurship with 15,000 members in 60 Chapters across 15 countries); Indian Angel Network, India's first and amongst the world's largest angel groups with over 200 portfolio companies, 500+ investor members globally, operations in 8 locations, including London and Israel.
He founded India's first private sector VC Fund which created companies like Indiabulls and Avendus. He has been involved in investing in around 100 start-ups and has personally mentored hundreds of entrepreneurs. He was an Investment Committee member of the Government's Start up Fund of Funds, served on the Investment Committees of two SIDBI VC Funds and is on the board of the Rajasthan Venture Capital Fund.
His public service commitments have included being a member of the National Innovation Council, SEBI Committee on Alternative Investment Funds, Software Technology Parks of India, Bombay Stock Exchange Hi-Tech Advisory Panel,Telecom Centre of Excellence, Railway Expert Committee, PM's Empowered Committee for Awards on Excellence in Public Administration and the National Expert Advisory Committee on Innovation, Incubation and Technology Entrepreneurship.
After a successful stint in the US and India with IBM, he headed Tata Unisys, before turning to entrepreneurship. He founded several successful IT companies including one which was ranked amongst the top 15 companies in India, was the first to get ISO 9001 ( before Infosys and TCS) and was listed, post-merger, on the London Stock Exchange with revenues of $800 mill. He serves/has served on the boards of reputed public companies from the US, UK and India.
He served on the Advisory Board of Imperial College Business School London, was adjunct Professor of Entrepreneurship at IIT Mumbai, is Chairman of IIIT Naya Raipur and on the Board of Governors of IIT Kanpur.
He has a Masters from Harvard University, a B Tech from IIT Kanpur and was awarded an Honorary Doctorate in Technology by the University of Wolverhampton, UK. Other Awards include "Distinguished Alumnus Award" from IIT, the Data Quest Lifetime Achievement Award for IT, the Lifetime Achievement Award from IVCA for his contribution to angel and VC investing and the Patrick J McGovern Lifetime Achievement Award for Entrepreneurship ( other awardees include Ratan Tata and Nandan Nilekani).
Raman Roy
Co-Founder, IAN & Founder, Quattro
Quite often regarded as the father of BPO industry in India, Raman is believed to have created more than 35,000 new jobs in India and has indirectly enabled the employment of over 7,00,000 people.
With a guiding philosophy of enhancing the success rate of nascent businesses, Raman is one of the founding members of the Indian Angel Network. Having invested his wealth in over 50 companies, Mr. Roy has a passion to enable start-up businesses to create, scale and add value.
Raman is a pioneer four times over, having successfully pioneered and led the BPO initiatives of American Express, GE (now Genpact) and Spectramind (now Wipro BPO) before starting Quatrro in 2006.
Raman belongs to a very unique league of Indian chartered accountants who have contributed significantly towards the economic growth of our country. He is a rare example of a living practitioner having created many successes and overcome many challenges both as an investor and as an entrepreneur.
In his career spanning 30+ years, Raman has a very hands-on approach to business. He has handled roles in Finance, Consulting, Operations and General Management with equal ease. He is a rare example of a living practitioner having created many successes and overcome many challenges both as an investor and as an entrepreneur.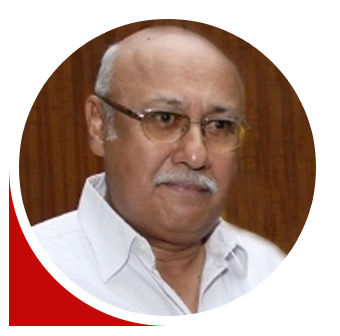 Mohit Goyal
Co-founder, IAN
After IIT Madras and a short stint in the UK, Mohit joined IBM India, where he spent a number of years. His last position there was as IBM's Country Manager of Nepal, after which he joined ICL UK's Indian subsidiary ICIM, where he held a succession of senior management positions. ICIM was then the largest Indian IT company after IBM. He left ICIM to pursue an entrepreneurial career in the emerging software outsourcing opportunity and co-promoted IIS Infotech Ltd, which was ranked among the best IT companies for its Quality and HR practices. IIS was also among the first software companies to be listed in India and, in 1998, was acquired by Xansa Plc, a UK publicly listed IT major. Xansa has since been acquired by Steria of France.
Mohit then co promoted Scicom Technologies Ltd., a, IT company specializing in the more scientific computing sectors like oil exploration, medical imaging, etc. Scicom was acquired by SAIC Inc, a US publicly traded IT company, in 2007. Mohit is a founding member and Director of the Indian Angel Network, a group that has now grown to over 450 members who are active in funding startups. He is on the board of some of the investee companies. Mohit is married to Mala and they are keenly interested in areas that bring sustainable development to the under privileged. His hobbies are art, reading, music and golf.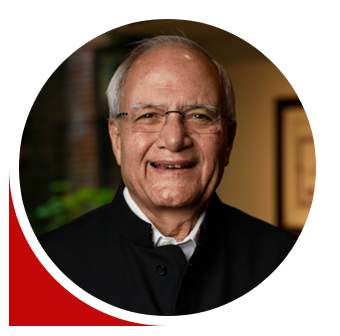 Ajai Chowdhry
Board Member, IAN & Co-founder, HCL
Dr. Ajai Chowdhry is one of the six founder members of HCL. HCL was started with a dream 'to take the microprocessor and change the world' in 1976.
HCL today is valued at US $ 50 Bn. Starting from India, Dr. Chowdhry took HCL to Singapore in 1980 and created a business spanning ASEAN, China and Hong Kong. In 1995, Dr. Chowdhry took over the reins of HCL Infosystems and created a 12,000 crore (US $ 1.6 Bn) organization over the next 15 years. HCL Infosystems was the leader in hardware products, system integration and Nokia phone distribution.
Dr. Chowdhry has been at the forefront of helping create the Electronics Industry in India. He was involved in Government Committees since 1999. In 2009 he headed a Task Force created by MEITY which made path breaking recommendations where the task force warned that the electronics import bill will exceed the oil import bill. (https://www.financialexpress.com/opinion/making-india-atmanirbhar-in-electronics/2066551/ ). This formed the basis of the Electronics Policy.
In 2011, in recognition for helping build the IT & Electronics industry in India, the Hon'ble President of India, conferred the prestigious Padma Bhushan, one of the highest civilian honour in India.
He has received many awards including Electronics Man of the Year 2010, CNBC'S India Innovation of the Year Award 2010 and Cybermedia Business ICT Award 2013 for Lifetime Achievement in ICT.
Dr. Chowdhry has been an institution builder and Chaired IIT Hyderabad and IIIT-Naya Raipur and helped build these two institutions from their founding. And then Chaired IIT Patna during its early days. In addition, he was Chairman of NIFFT Ranchi and helped convert the Institute to National Institute of Advanced Manufacturing with change of course towards Industry 4.0. Dr. Ajai Chowdhry was also the Chairman of Electronics Sector Skills Council of India.
From 2011, Dr. Chowdhry has been deeply involved in investing in, nurturing and mentoring startups. He is on the Board of the largest Angel Network in India, Indian Angel Network and has personally invested in more than 50 startups. He is on the Investment Committee of IAN Fund, Electronic Development Fund and Canbank Venture Capital Fund. He also is the Chairman of FICCI Startup Committee.
Dr. Chowdhry has been nominated by Ministry of Electronics & Information Technology as a Member to the Advisory Board of India Semiconductor Mission. Dr. Chowdhry has been appointed as an Esteemed member of the Consultation Group on Science & Technology and Innovation Sector by the Vice-Chairman Niti Aayog.
In 2021, Dr. Ajai Chowdhry co-founded EPIC Foundation an Industry Led Non – Profit Organization conceived to develop Electronics Products of national importance unleashing an economic potential of $20 Billion Dollars and Self – Empowering the masses of India by bridging the digital divide and creating a secure technology infrastructure. He is currently the Chairman of EPIC Foundation and has created a fabulous team of more than 50 Eminent Global leaders to provide impetus to this important national initiative.
Dr. Chowdhry has focused on giving back to the society and has set up a Charitable Trust called Swayam where he contributes to many areas including education, women empowerment and providing relief during Covid to Delhi and Goa citizens. He also is a Board Member of Population Foundation of India and a Trustee of Save Life Foundation.
Dr. Chowdhry has a Bachelor's degree in Electronics and Telecommunication Engineering from Jabalpur Engineering College and attended the Executive Program at the School of Business Administration in the University of Michigan in the US. He has also been awarded Honoris Causa (D.Sc) by IIT Roorkee, Indian Institute of Information Technology, Design & Manufacturing, Jabalpur and University of Engineering & Management Kolkata.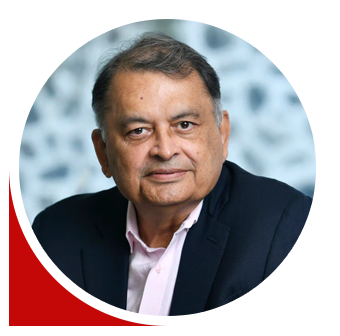 Harish S Mehta
Board Member, IAN & Founder & Executive Chairman Onward Technologies
Mr. Harish Mehta is Founder & Executive Chairman of Onward Technologies Ltd (OTL),
He has been recently appointed as an Expert Advisor to the Executive Committee of the Board of Small Industries Development Bank of India (SIDBI) for its Fund of funds Operations.
He was also the Deputy Chairman and Managing Director of Onward Novell Software (I) Ltd. (1993-2005) and a 50:50 JV between Onward Group and Novell, Inc. (second largest personal software company globally then). He was one of the Chief Architects for the Hinditron – Digital Joint Venture in India in 1987.
NASSCOM, a leading IT organisation of Industry started from his office in 1986. He is the founder member and the first elected Chairman of NASSCOM, and now He is Convenor of Chairman's Council. He was honoured by the Prime Minister of India – Mr.Narendra Modi, for 25 years of exemplary contribution to NASSCOM.
He is also A director of Indian Angel Network (IAN), the world's largest and most active angel investors group, Mr. Mehta is also a former Director of Gujarat Venture Funds Limited and a founding member of Infinity Venture Fund – 2002, India's first corporate VC fund. Mr. Mehta Introduced the Indus Entrepreneurs (TiE), a Silicon Valley based Organisation, to Mumbai, and he was the First President of TiE – Mumbai (1999). He also served on the TiE Global Board from 2001-2002. He is convenor of .TIE Mumbai , President Council. He was director at The College of Engineering, Pune. (2010-2015)
He was honoured with a Life Time Achievement Award for HR Excellence by Deccan Herald in 2004. He was awarded 'CEO of the Year' in 1994, during an international seminar organized by NMIMS, Tata HRD Network and World HRD Congress. He was also honoured with a Life Time Achievement Award by IMC Chamber of Commerce and Industry on 1st June 2018.
He is also an active volunteer of Onward Foundation, Dewang Mehta Foundation Trust. He is a passionate promoter of Indian language computing.
Mr Mehta started in the industry as an Electrical Engineer from College of Engineering, Pune (COEP) and holds a Masters in Computer Science (EE) from Brooklyn Polytechnic Institute, NY (USA).
Alok Mittal
Co-founder, IAN & Co-founder and CEO of Indifi
Alok is Co-founder and CEO of Indifi, India's leading full-stack platform for enabling debt financing for small businesses.
Alok is also an active angel investor, co-founder of Indian Angel Network, and on the board of TiE (The Indus Entrepreneurs) Delhi.
Prior to starting Indifi, Alok setup and ran Canaan Partners' venture investment business. Earlier, Alok co-founded JobsAhead.com, a leading web-based recruitment business in India. Alok earned a BE in Computer Science and Engineering from the Indian Institute of Technology Delhi and a MS in Computer Science from UC Berkeley.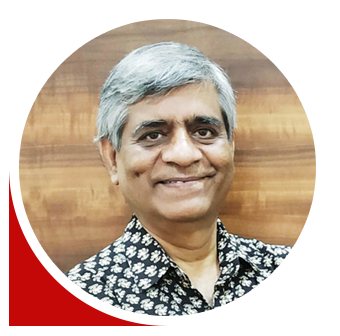 Pradeep Gupta
Co-founder IAN & Chairman Cyber Media Group
Pradeep Gupta is the Chairman of the CyberMedia Group, the specialty media house, with brands like Dataquest, PCQuest, Voice&Data, DARE, CIOL, Global Services, etc. Its subsidiary CMRSL is a leading provider of Digital Marketing services.
Pradeep is an Angel investor and has mentored over 250 start-ups. Pradeep was conferred the "National Entrepreneurship Award as the Best Mentor" by the Ministry of Skill Development and Entrepreneurship, Government of India.
He is on the Investment Management Committee of the 10,000 crore Fund of Funds set up by the Government of India.
Pradeep is the Chief Mentor of Electropreneur Park, Delhi & Bhubaneshwar.
He is the co-founder of Indian Angel Network, Asia's largest angel network. Pradeep was a global trustee of TiE, the world's largest entrepreneurial ecosystem across 17 countries. He Chairs the IIT Alumni Trust of IvyCap Ventures.
He is/has been on the Boards of UTI AMC, IIT Mandi, Indian Newspaper Society, IIT Delhi incubator, IIM Calcutta Innovation Park, IIT Startups, Lemon Tree Hotels, etc. He has been the past President of PanIIT India and Association of Indian Magazines.
He is the recipient of the Distinguished Alumni award of IIT Delhi and IIM Calcutta and the Helen Keller award for working in the disability sector.
Pradeep is an Engineer from IIT Delhi (1975) and an MBA from IIM Calcutta (1977).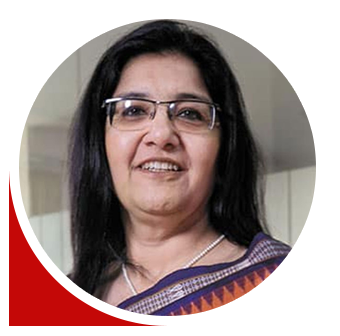 Padmaja Ruparel
Co-founder, IAN, Founding Partner, IAN Fund
Padmaja Ruparel is nationally recognized as a key player in the Indian entrepreneurial ecosystem and has helped co found many of the relevant institutions, besides being an active Angel investor herself. Her operating experience spans large corporates, M&A, and startups/early stage companies.
She has been awarded as one of the 'Top 50 Most Powerful Women in Business' by Fortune India for 4 years, is listed in Forbes India's W- Power Trailblazers and "30 Most Powerful Women in India" by Business Today for 3 years running. The Women Economic Forum recognized her with its "Women of the Decade in Investment Banking" award.
She is Co Founder of Indian Angel Network (IAN), India's first and now possibly one of the world's largest group of business angels, comprising the who's who of successful entrepreneurs and dynamic CEOs from India and overseas. She built IAN from inception, making it within 15 years a unique institution globally, with close to 500 investors across 10 countries and a portfolio of ~ 2 0 0 companies in 7 countries, spanning 17 sectors. She has operationalised IAN's international operations in London – making it the only angel group in the world to set up operations outside of its home country.
Padmaja is also the Founder of BioAngels, India's only sector focused angel investor group, in partnership with BIRAC, the innovation arm of the Department of Biotechnology, Govt. of India. She serves on several BIRAC committees bringing deep engagement in the Healthcare & Cleantech sectors.
Padmaja has been nominated as Co Chair of Global Business Angel Network (GBAN). She is a member of the Government's NEAC the National Expert Advisory Committee on Innovation, Incubation and Technology Entrepreneurship. She is a member of several committees of BIRAC (Dept. of Biotech, Govt. of India), various committees of Ministry of Finance, DPIIT, & SEBI. Padmaja is a member of the Executive Council of IVCA (Indian Venture Capital Association) and Co Leading the LP / Family Office Council Padmaja is the Senior Managing Partner of the IAN Fund I, a uniquely differentiated Fund which along with IAN, has become the largest horizontal platform in India for investing in seed and early stage ventures.
She is a member of the Governing Council of EM3 Services, a nation building venture seeking to create a paradigm shift in the Indian agricultural sector by improving productivity. Padmaja is an Independent Director on the Boards of Avendus Finance Pvt. Ltd. & Ester Industries Ltd.
Apart from cofounding IAN, she also set up and operationalised the Delhi chapter of The Indus Entrepreneurs (TIE) the world's largest organization focused on entrepreneurship with over 16,000
members across more than 60 chapters across 14 countries. She also established a unique model of an incubator, in partnership with the Indian Government, leveraging 400 mentors to provide mentoring & domain expertise to around 50 young fledgling incubatee companies. She played a key role as Executive Director in building the Indian Venture Capital Association, India's oldest and largest association of VC and PE firms. Currently, she is a member of IVCA's Limited Partners Council.
She helped the creation of Lankan Angel Network in Sri Lanka. She contributed actively in the Planning Commission's Committee on "Angel & Early Stage Investing in India" which resulted in a seminal report: "Creating a Vibrant Entrepreneurial Eco system in India".
In her corporate avatar at Xansa India, (Xansa was a US$800mn company listed on LSE before being acquired by Steria), she led several functions over a 16 year period : handled recruitment operations, built and successfully executed an innovative brand and communication strategy and led the corporate social responsibility initiative which engaged employees, clients as also the government. She was a key member of the corporate strategy and M&A team as the Company went public, forged joint ventures and the final acquisition of the Indian company.
Padmaja picked up entrepreneurial strings very early in her career – she revived and grew the family real estate business in Calcutta – growing if from 50,000 sq ft to over 250,000 sq ft over 2 years and turned it around to become a profitable business.
A graduate with English Honours, Padmaja then completed her MBA as well as Chartered Accountancy (Intermediate) with her internship with S.R. Batliboi (an E&Y group company).